Monetary rewards are not the answer to recognizing and encouraging success, and can actually undermine motivation. Extensive research backs this up. According to a study by the London School of Economics: "We find that financial incentives can result in a negative impact on overall performance." Gadgets, trips, or other monetary incentives don't make a lasting impression, or benefit the organization as a whole. "Over-reliance on pay and promotion as motivators leads to an organizational culture that is very transactional and disengaged," says Susan David, co-director of the Harvard/McLean Institute of Coaching.
Non monetary recognition, on the other hand, does not affect employee behavior the same way that monetary rewards do. Here are five reasons why:
1. Recognition helps build an employee's brand
Recognition, when it's done well, is public. You can praise an employee on the front page of the corporate intranet. This can help elevate an employee's status among her peers. Cash rewards, on the other hand, need to be kept private. There's a strong taboo about discussing pay scales in the workplace, meaning that you can't post an employee's bonus payments in public. Yes, an employee with a fat bonus can put a payment down on a new Lexus, but that brings us to point #2.
2. Recognition is guilt-free for both parties
Monetary rewards feel good for a moment. But once the money is in the bank many employees become conflicted. Is the money still a reward for good work? Or does it really need to go to roof repairs, paying down a credit card or get tucked away for the kids' college funds?
Non-monetary recognition, on the other hand, can be enjoyed by employees with no strings attached. It goes straight into their emotional expense accounts and doesn't have to be used to repay past debts.
Learn how a non-monetary recognition program inside SharePoint helped a newly-merged company achieve a single conversation around achievement and accomplishment.
3. Recognition goes above and beyond employee expectations
Cash is expected. It is part of the contract you make when you hire an employee. If you offer bonuses for performance, those also become expected. It's just part of the salary package. Something that you owe your employees.
Non-monetary recognition, on the other hand, can be perceived as a gift – something that you give an employee for significant reasons beyond just showing up and clocking in.
4. Recognition creates meaning for employees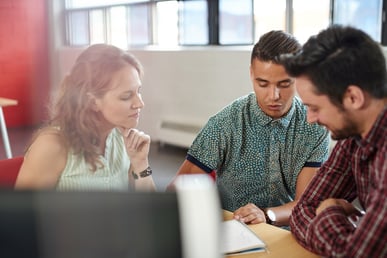 Doing meaningful work is deeply important to most people. Cash payouts don't create meaning. In fact if an employee gets a bonus when he knows he only contributed 50% of his best effort it can make the workplace feel capricious. "They don't know what they're doing here – and look how much they pay me to do it!"
Non monetary recognition, on the other hand, is all about meaning. It says "I saw how much work you put into the Jones account, and that means a lot to me."
5. Recognition is human
People don't want to spend their whole lives cranking widgets, even if that's their job. They want to be part of a bigger social enterprise. When you recognize their contributions like when you thank Sally for her 99.9% widget success rate, you are building a personal connection with an employee. She is now a vital part of your team and your tribe.
Cash, on the other hand, can be dehumanizing. Just like the episode of Seinfeld where Jerry gave Elaine a stack of bills for her birthday, cash can leave employees feeling used. It can leave a lingering sense of "sure, they pay me, but they don't really know me."
When it's working as it should, recognition transforms your company's culture. People bond to each other, and watch each other's backs. They get engaged and look for new ways to contribute.